This versatile titrator is suitable for a range of determinations making it ideal for simple titrations of most sample types. The simple 'App' style user interface reduces training time while increasing work speed and simplicity. iTitrate Intelligence's guided set-up assists in method programming to ensure samples are tested consistently, regardless of operator, and with minimal effort. Eliminate manual calculations and documentation with a printer or EasyDirect™ Titration PC Software.


Water Determination Made Easy
Karl Fischer determination is the benchmark for water content analysis. The Easy KFV titrates for water content in a wide variety of samples from any industry.
Features of the Easy KFV Titrator include:
Tests water in the range from 100 ppm to 100%.
Simple and automatic titrant standardizations.
Injection port for syringes and pipetted liquid samples.
Handy weighing/carrying spoon for easy and spill-free solid sample introduction.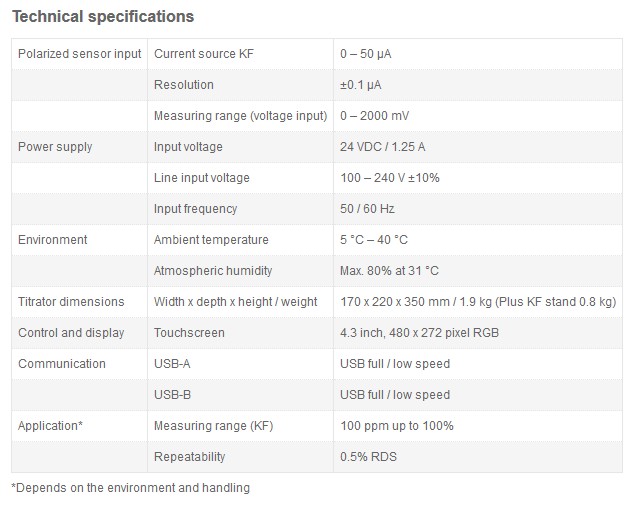 PT. MITRA BATAVIA SEMESTA
Komplek Wahana D6.22 Lt.2, Jatisampurna, Bekasi 17432
Phone. (021) 2906 2206 
Handphone/WA. 0878 8545 8787 – 0812 8833 7187
Email. sales1@batavialab.com - sales2@batavialab.com
---