Cytotoxic Safety Cabinet (CSC) is defined as the primary barrier against exposure to aerosols that are produced in the preparation, manipulation and dispensing of cytotoxic drugs with a filtered air flow system by ULPA Filters so that it is good for the security and safety of users and the environment.
Features
The 7-inch widescreen TFT LCD Display Logic Panel
Programmable Logic Controller (PLC) + Human-Machine Interface (HMI)
Motorized Sash by Linear Actuator Motor
ULPA Filter as Downflow and Exhaust Filter with 99.999% efficiency for particle sizes of 0.12µm
HEPA Filter as an additional filter to lighten the work of the ULPA Filters and maximize protection, especially for the environment and users.
On the Display
On the Filter Room as indicator of Filter Quality During Use (Pa)
Filter Life and UVC Life (Hour) 
Input UVC Light Duration
Menu Input Set Point for Downflow and Inflow
Menu Setting (Alarm for Airflow, Filter Life, UVC Life, Stabilization Time, etc.)
Alarm for Airflow, Filter Life and UVC Life
On/Off Virtual Button for Blower, UVC Light, and LED
Specification
External Dimension 1100 x 850 x 2100 mm.
Internal Work Area 1000 x 590 x 590 mm.
Open Sash During Use   8" or 20.32cm
Average Inflow  ≥ 0.45 m/s
Average Downflow  ≥ 0.25 m/s
Downflow Filter   ULPA Filter (Certified)
Final Exhaust Filter ULPA Filter (Certified)
Additional/First Filter HEPA Filter (Certified)
Sterilization UVC Germicidal Lamp 20W*1. Radiation ≥ 0.040 mW/sq cm
Work Lamp  LED T5 6500K Cool Daylight 12W*1. Intensity ≥ 650 Lux
Sash Tempered Glass 5mm Thickness with Motorized by Linear Actuator
Sash Alarm  Audible and Visible Alarm
Body Material Steel
Finishing Oven Paint Powder Coating
Work Area Material Stainless Steel 304
Electrical Socket 2 Pc Mennekes, Inside Cabinet
Stand with Caster Swivel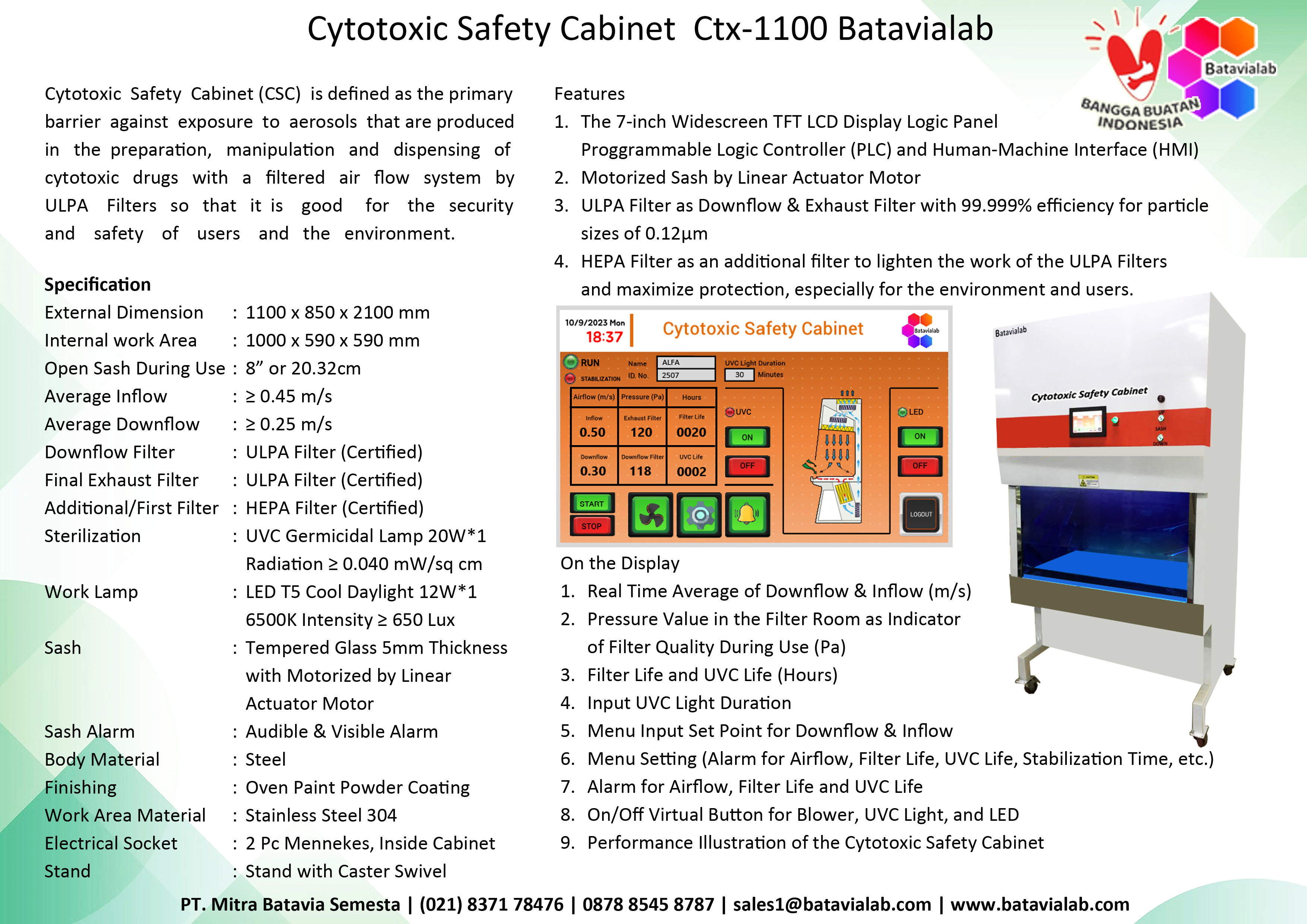 ---